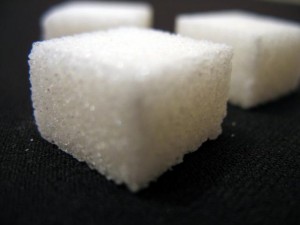 It's day 2 of the Primal Blueprint 30 Day Challenge, and I'm happy to report that I'm back on track and feeling a bit better. Today, all of my meals have been fully primal. Generally, I try to follow the 80/20 rule, but for these thirty days, I want to go all the way, pull out all the stops! For me, that means cutting out sugar in a big way.
Sugar is my big vice. I have a gigantic sweet tooth and things like honey, sugar and agave syrup have helped to keep me sane. I've cut back on my chocolate intake and switched to dark chocolate with at least 70% cacao, but I've still been drinking my coffee with my customary two teaspoons of sugar. I gave up sugar in my coffee once before, so I knew I could do it again, but it's been challenging. I hadn't realized how much those two teaspoons of sugar in my coffee helped stave off the rest of my sugar cravings. I've been filling the void with fruit, especially high fiber fruits, and it's working, but it's just not the same.
Sometimes I wonder if I'm doing the right thing. If the paleo/primal way of life is the right way of life for me. Especially when I read something like this. I read a lot about low carb vs. low fat. This month's Women's Health magazine says low fat is the way to go. Last month I swear I read the exact opposite.
Right now, I'm sticking with paleo/primal because it's working for me, because I feel good, and because I like the logic behind it. I'll continue to try to get my protein and fat from healthy sources, and I'll continue to keep my carb intake between 50 and 100 grams per day and only take in carbs from fruits and vegetables. But with so much conflicting information out there, it's not at all surprising that people don't know how to eat healthy anymore. I mean, come on, when one source says one thing and another says the complete opposite, how do you know who to trust?